GPSD Covid Update as of 08/20/21...will update weekly. Thank you for your support of and compliance with the mask requirement. It is making a difference in keeping students and staff in school already! We appreciate you! #BeGreat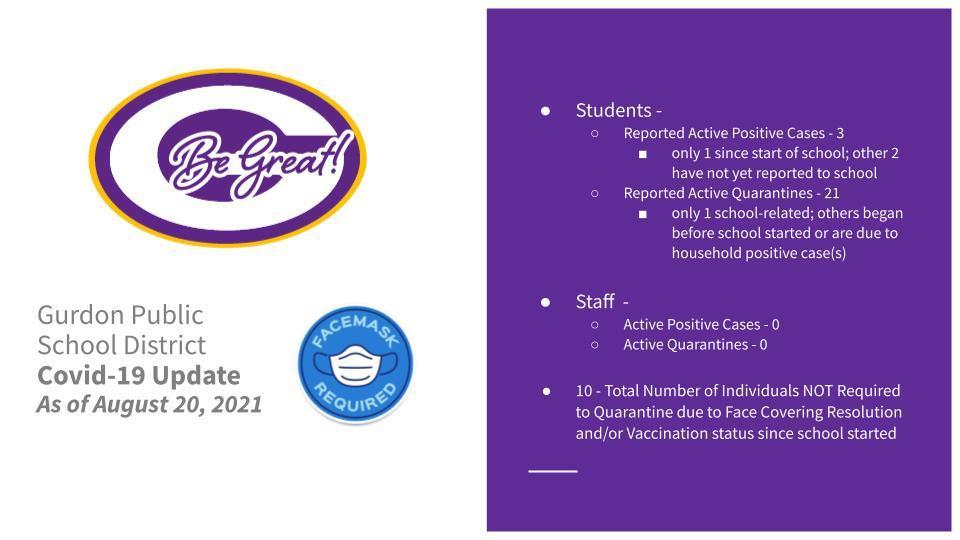 Thanks to our own Gurdon Public School's Maintenance Team for refinishing our gym floors at the Primary School. It looks awesome!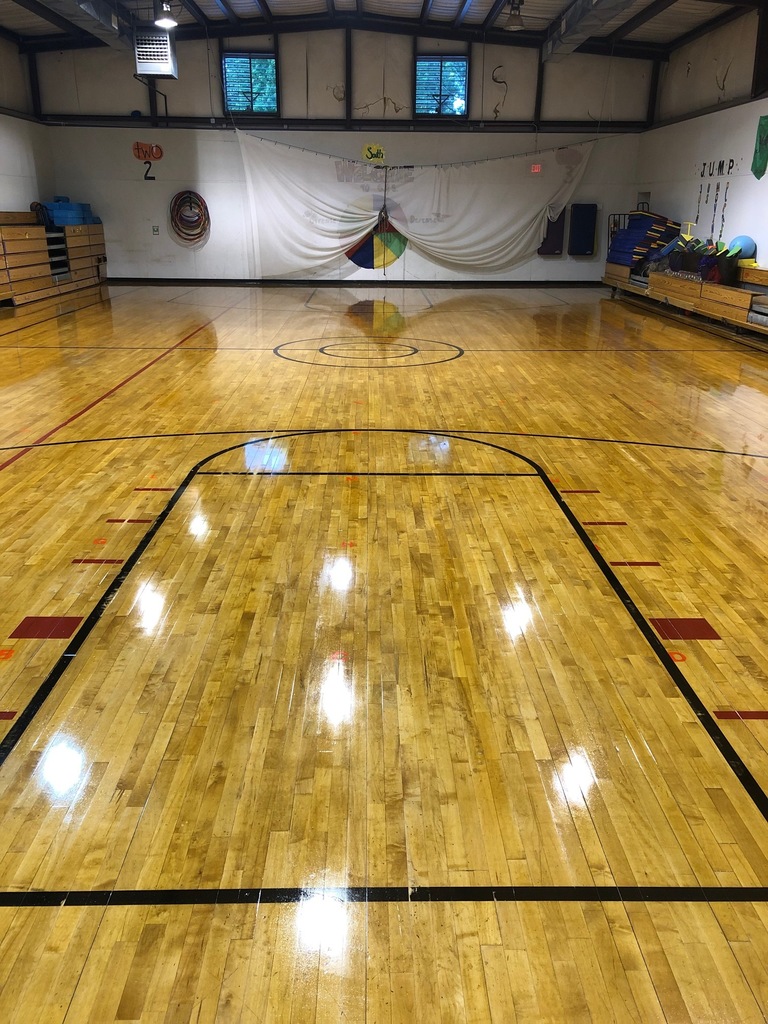 The youth football camp scheduled for Saturday August 21st has been postponed at this time. We will post information at a later time with information regarding a makeup date in the future if possible.

We would like to say a special "Thank You" to Charles Wooley with Arkansas Children's Hospital and The Ross Foundation for furnishing six additional Stop the Bleed kits within our district! Kits are now located in all main campus buildings and most outlying buildings.
JH Go-Devils scrimmage against Fordyce tonight. 30-6 Fordyce.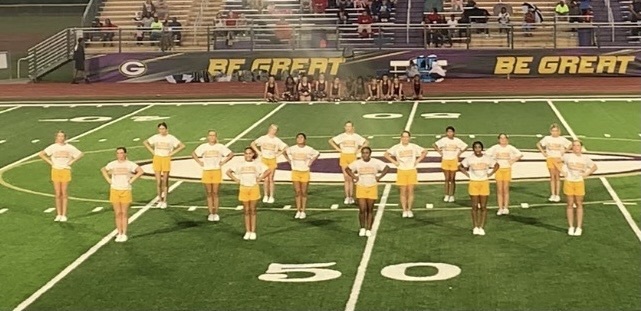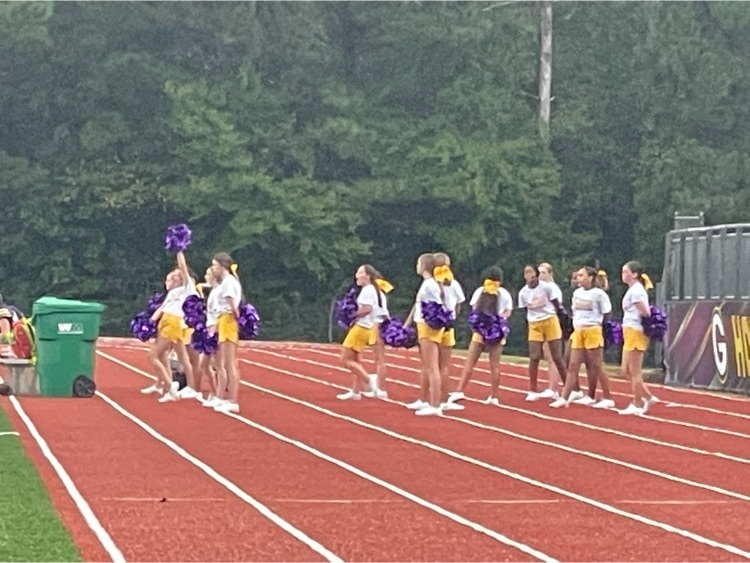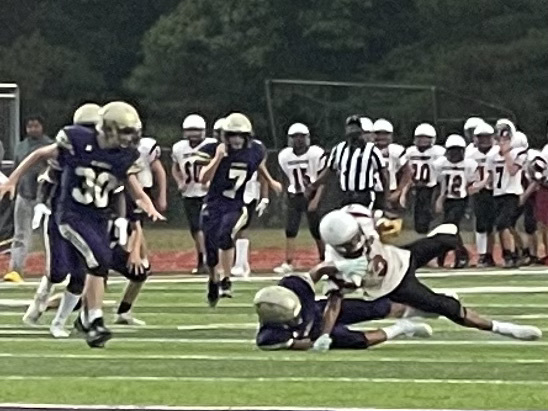 FREE HEALTH RESOURCE Parents, Visit the link below to download the free AR Children's Hospital app. This app is a wonderful resource that offers a symptom checker, medication dosage assistance, advice for parents regarding behavior and wellness, a quick first aid reference, and much more!
https://www.archildrens.org/resources/arkansas-childrens-hospital-app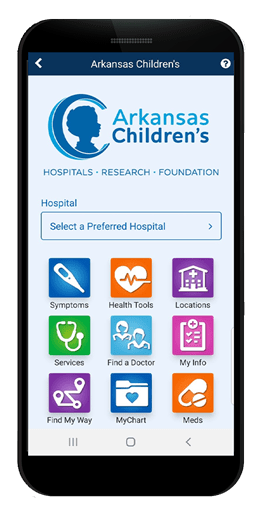 Bus 20 is delayed and may be about 10-20 minutes behind its typical schedule. A replacement bus will replace it shortly.
Benefit Game Info: Jr. High vs Fordyce- Thursday August 19th at 7:00pm at Cabe Field inside Go-Devil Stadium. Admission is $4. Only AAA passes will be accepted. Sr. High will play at Fordyce Friday night at 7:00pm. $4 Admission
Meet the Devils will be Monday night August 16th at Cabe Field at Go-Devil Stadium at 7pm. Admission will be a white towel or high efficiency laundry detergent.

The Gurdon School District will offer breakfast and lunch free of charge to students again in the 2021-22 school year!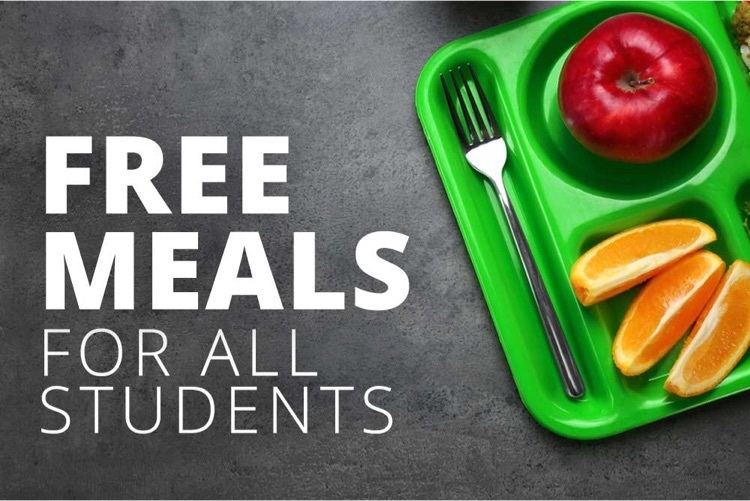 In a Special Meeting this evening, the Gurdon School District Board of Education voted to require all persons present on Gurdon school campuses while indoors or in school vehicles or buses, including staff, students, visitors and others, wear masks or appropriate face coverings. This requirement does not apply to outdoor activities such as recess or ballgames or to indoor exercise activities where masks would be inhibitory to the activity. When social distancing can be attained, as determined by staff, students will not be required to wear masks. Wearing masks properly by all, like vaccinations, will exempt a probable close contact from quarantine as long as they are asymptomatic. This resolution, along with Covid-19 data, will be reviewed at the September board meeting to determine revision or continuation. As last year, individuals with a medical condition or disability that prevents wearing a face covering will be exempt. Please contact your building principal if that is the case. The goal of the Gurdon School District is to maintain a safe and healthy learning environment for all of our students and staff. Thank you for your continued support.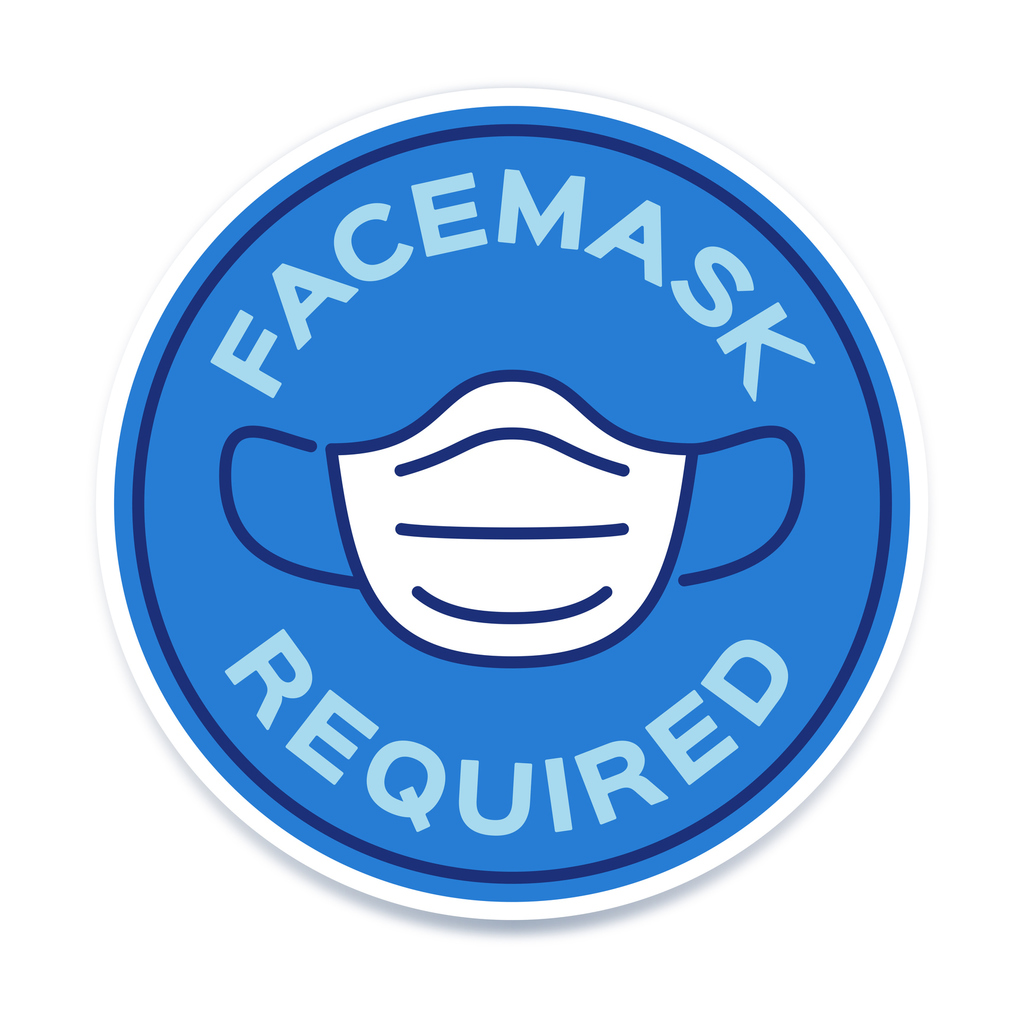 The athletic parent meeting scheduled for tonight has been cancelled. We will post a notification about a makeup date if possible in the future.

Please reference the information below regarding COVID-19 reporting procedures for this school year. If your student will not be able to start school due to quarantine, be sure to notify the district point-of-contact.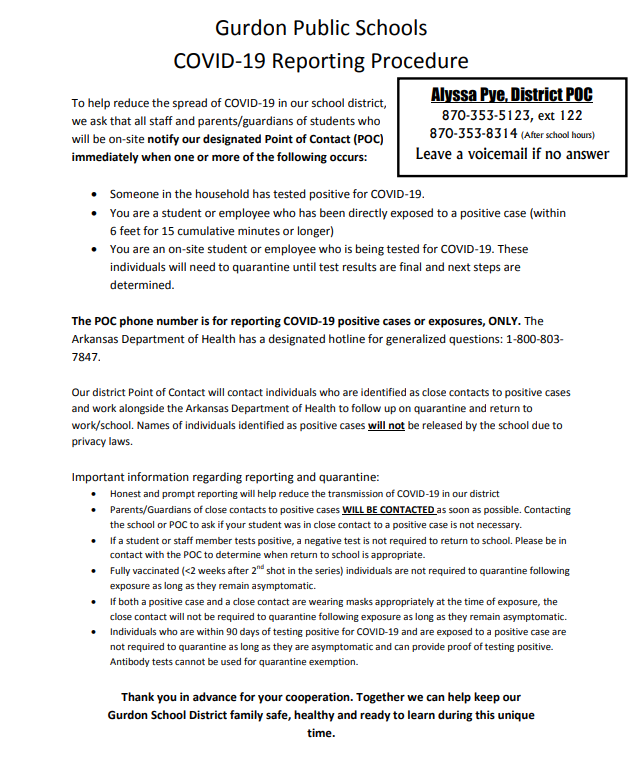 Our school nurses are excited to care for your students this year! Please see some friendly reminders below.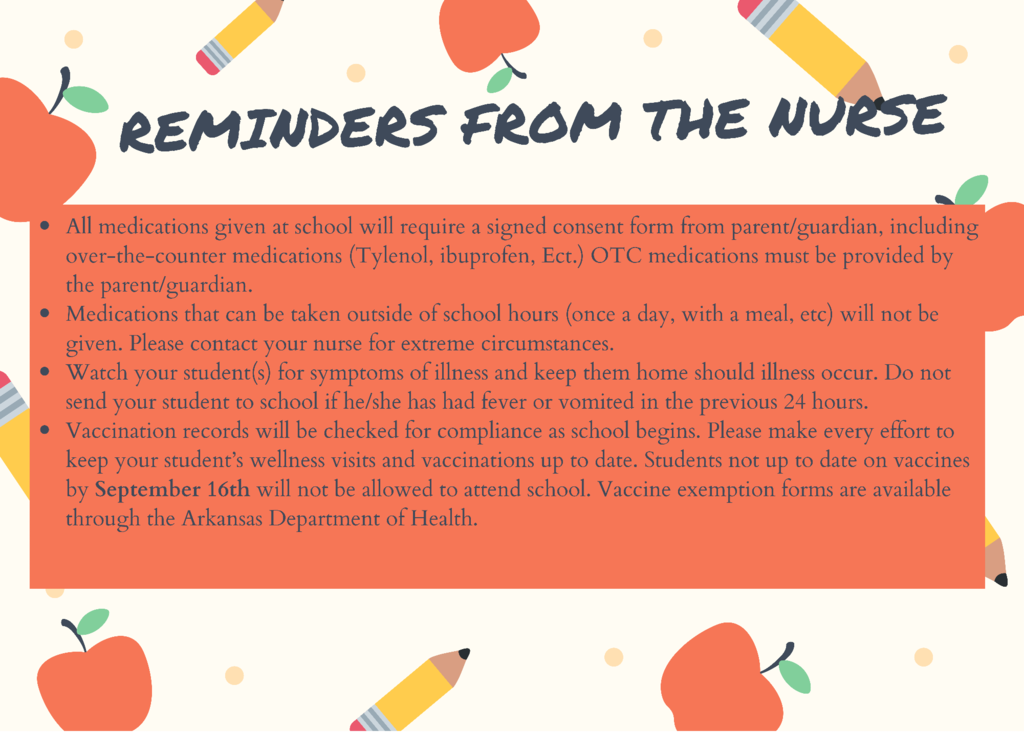 Meet the Devils has been moved to Monday August 16th at 7pm at Cabe Field at Go-Devil stadium.

In planning for the upcoming school year, the Gurdon School District has sought input from parents, staff, medical professionals and the community. The Departments of Education and Health have released new guidance this week and local school districts were given back the authority by the judicial branch to make decisions regarding the implementation of safety measures in their schools. Due to changes in the law and guidance since last Friday, the Gurdon School Board will meet tomorrow evening to discuss safety measures we will have in place for this school year. The issue of masks is the main item to be considered. Other safety protocols that were in place last year, such as frequent cleaning/sanitizing, handwashing, and social distancing where possible will continue. If your child has a unique need and needs to be considered for long-term virtual instruction this year, please contact your child's principal to apply for consideration to the Arch Ford program that we already have in place. Arch Ford Education Co-op offers online learning with a facilitator available for support remotely and in-person as needed. Gurdon schools will offer onsite instruction each day this school year unless we have to close due to a Covid outbreak or another natural event. If a student, class, school or the district has to quarantine or pivot due to Covid cases or any other event, students will have online access to their assignments and teachers as they did last year, under our AMI plan. We will work with every student to make sure they have continuous learning opportunities. The social, emotional, physical and academic well-being of our students is our top priority. Providing a safe environment for our students and staff will be at the core of every decision made. Thank you for your patience and understanding as we receive changing guidelines frequently. We will keep you updated if and when we have to modify our plans.
CMS Open House - see information below- if you have a 5th grade student please call our office to schedule an appointment. 870-353-5145.